It's that time of year again! The days are getting shorter, the leaves are changing colours, and people all over the world are gearing up for Black Friday.
If you are deciding to take part this year as a business owner, you know that it can be difficult to stay on top of marketing your business while trying to get everything ready.
To help you out, I've compiled a short list of ideas to get you thinking about how to market your business this Black Friday.
"This doesn't apply to me!!"
Firstly let's just address the elephant in room: Black Friday matters to small businesses.
You might not be keen on spending money around this time of year yourself because you don't want to add to the consensus that consumerism is good BUT many small businesses make a living during this time.
For many of us, Black Friday is the only time we get to see our businesses grow because consumers are more primed to spend at this time of the year in the run-up to Christmas.

And it's not just product businesses that can benefit: service-based businesses, training companies, event companies and more can all offer some sort of discount or offer.
In the UK we'll see more spent online during the Black Friday period than ever before so why try to fight it?
If you're not keen on slashing your prices or reducing your margins then do read on too as I have some ideas for you too!
So, after that brief disclaimer let's jump into the tips!
tip 1 – offer a discount in a fixed time
This means you don't have to spend 10 days offering your discount as it seems the trends have moved to in recent years.
You can just offer a discount for a few hours or just the day itself.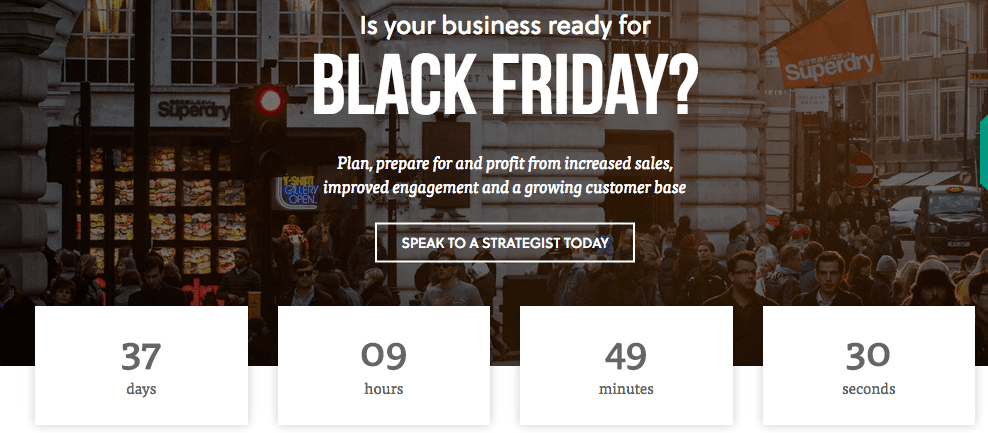 You could even break the mould and put out your offer the day or week before.
Grab a countdown clock for your emails from eventcountdown.com here.
There aren't really any rules but the timeboxed element helps to persuade customers to make a decision to buy from you.
Boots have already started their Black Friday offers:
tip 2 – offer something to just your loyal customers
Don't forget the people that made you! Give them a discount of products they have bought previously as they are more likely to want to buy from you again!
Amazon typically offer deals to Prime members, for example to mirror it's wildly popular 'Prime day' because repeat customers buy again.
tip 3 – run a competition
Give away mystery prizes to those who sign-up to your mailing list or social media in the week running up to Black Friday.
This will help you gain followers on social media who in turn may engage with the promotion of your products/services at this time of year too!
Perhaps use this to promote a new product or get rid of end of line stock.
Giving something away opens up the opportunity to sell more products to especially to those that didn't win but hoping they would.
tip 4 – offer something unique and limited
Make sure that your products or services are easily recognisable as different from those offered by larger companies so you can stand out in the crowd.
People want to feel like they're getting something special for their money, not something everyone else is getting.
Cards Against Humanity have made this approach for quite a few years running and not only is it entertaining it also makes the news…and the best thing is they didn't even have to discount their products, they just made a joke about doing it!
It will be a very busy few days for consumers to see offers across the web, social and emails so you need to do what you can to stand out.
tip 5 – do it right with your marketing campaigns
Make sure that they're well planned out and prepared, don't leave everything until the last minute otherwise you'll be exhausted at this time of year.
Use tools like Canva to create high impact / low-cost posts and keep your email short and to the point as your customers will be getting a LOT.
---
I hope that this post helped you get just a little more prepared for Black Friday and if nothing else I hope that you're inspired to take part in the madness!
If you liked this post please comment below and let me know what you think and if you want more tips on marketing sign up to the mailing list below…